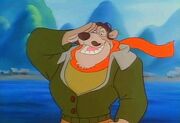 Whistlestop Jackson
(Hamilton Camp) was Baloo's childhood hero, a "hero to millions" and a "legend in his own time" for his aviation mastery and trademark biplane.
As a younger man, he once beat out start-up entrepreneur Shere Khan on an air cargo contract, leaving Khan a bitter rival. However, by the time Rebecca hires him to be Higher for Hire's Vice President, Whistlestop's skills were sorely obsolete and he did business solely based on his reputation. Although Baloo's opinion of Whistlestop was deflated when the aging pilot bungled a trial flight of the Sea Duck and made him take the blame, the two made up and again beat Khan in securing another lucrative air cargo contract for Higher for Hire, which allowed the aviation master to retire in the great bang he'd always hoped for.
Personality
Edit
He's a well-behaved, heroic, independent, supportive, trusting, lion-hearted, encouraging, strong-willed, tough, optimistic, polite, jovial, athletic, confident, kind, selfless, obedient, no-nonsense, whimsical, honorable, industrious, sensible, thoughtful, loving, educated, sweet, truthful, outgoing, protective, joyous, attentive, courteous, knowledgeable, sympathetic, open-minded and nice bear.
Appearance
Edit
He wears an aviator's helmet and goggles, plus an orange scarf.
External links
Edit