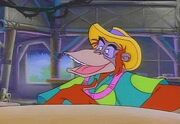 Louie (Jim Cummings is a fun-loving orangutan who owns the island nightclub and motel Louie's Place, located near but outside the protection of Cape Suzette. It also serves as a refueling station/pit stop area for pilots. He appears to be one of Baloo's bestest friends but sometimes can be competitive with him when it comes to women, treasure-hunting and, on occasion, in business matters. His hold on the island is somewhat tenuous, though through his own ingenuity and the aid of his friends he's managed to avoid losing it (in "Louie's Last Stand").
Episode Appearence's
Edit
A Touch of Glass
From Whom the Bell Klangs
Ad blocker interference detected!
Wikia is a free-to-use site that makes money from advertising. We have a modified experience for viewers using ad blockers

Wikia is not accessible if you've made further modifications. Remove the custom ad blocker rule(s) and the page will load as expected.