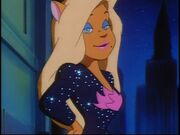 Kitten Kaboodle (voiced by Tress MacNeille) is a seductive yet unbearably beautiful and insanely ravishing blonde feline ex-Starrywood (the show's version of Hollywood) starlet with a husky Lauren Bacall-like voice who acts like a femme fatale who can manipulate any hapless male under spell. She's kinky, intelligent, treacherous, temperamental, evil, negative, kooky, arrogant, boorish, obnoxious, obsequious, dramatic, loud-mouthed, emotional, keen, immature, traitorous, testy, envious, nefarious, kind-hearted (formerly), abusive, bratty, outgoing (formerly), open-minded (formerly), dependable (formerly), loathsome and egotistical.
Physical appearance
Edit
Kitten Kaboodle is an extremely slender cat.
Write the second section of your page here.
Ad blocker interference detected!
Wikia is a free-to-use site that makes money from advertising. We have a modified experience for viewers using ad blockers

Wikia is not accessible if you've made further modifications. Remove the custom ad blocker rule(s) and the page will load as expected.