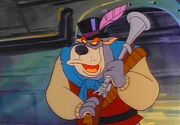 Mad Dog (voz de Charlie Adler) parece asemejarse a una comadreja, casi tanto como un perro, y él generalmente se encuentra llevando sombreros de tela, gafas de vuelo, un chaleco sin mangas azul y brazaletes con pinchos. Él también tiene un bigote bigote estilo Fu Manchu en. Mad Dog tiene un quejoso, nasal voz y es el más inteligente de los dos principales secuaces ... que tampoco es decir mucho. Tiende a ser un poco perezoso, le gusta tomar el crédito para nada bueno, y le encanta echar la culpa de nada malo. He's a deceitful, unkind, mean-spirited, pushy, treacherous, relentless, uncompromising, callous, kooky, dramatic, ungenerous, menacing, sometimes prissy, tough, rude, ungrateful, clever and kinky dog.
Ad blocker interference detected!
Wikia is a free-to-use site that makes money from advertising. We have a modified experience for viewers using ad blockers

Wikia is not accessible if you've made further modifications. Remove the custom ad blocker rule(s) and the page will load as expected.