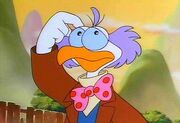 Buzz (Kenneth Mars) is a short purple-haired bird of indeterminate species who is Khan's peculiar in-house inventor as well as an old friend of Baloo's. A self-described "loyal company man", he is also the captain of the company chess team. Buzz's most noted invention is a prototype helicopter which promises to allow his employer to be the first marketer of a revolutionary new kind of aircraft. He's a brainy, understanding, zany, zesty, trusting, honest, eccentric, inventive, no-nonsense, valiant, educated, neurotic, timid, organized, respectful, bashful, upbeat, zestful, zealous, thoughtful, helpful, eager, ingenious, nice, volatile, even-tempered, noble, tenacious, obsequious and relaxed bird.
Ad blocker interference detected!
Wikia is a free-to-use site that makes money from advertising. We have a modified experience for viewers using ad blockers

Wikia is not accessible if you've made further modifications. Remove the custom ad blocker rule(s) and the page will load as expected.